Charlotte's Trusted Wrecking
& Demolition Contractor
Demolition Services
W.C. Black and Sons, Inc. is a leading provider of Demolition Services in the Charlotte Metro Area and both North and South Carolina. Our vast experience in the demolition industry has provided us with the knowledge and expertise to successfully complete demolition projects of all types and sizes. We specialize in Residential Demolition, Commercial Demolition, and Industrial Demolition Services. Our company attempts to recycle, when possible, much of the material from sites we work to reduce the economic and environmental impact within communities. As a Demolition Contractor, W.C. Black and Sons, Inc. provides demolition and wrecking services for the demolishing, wrecking, or dismantling of Residential & Commercial Structures, Barns, Garages, Bridges, Mobile Structures, Aircraft Hangers, and more. In addition, Asbestos Inspection, Abatement, and Removal Services are also available.

W.C. Black and Sons, Inc. provide quality Demolition and Wrecking Services at reasonable prices. Our company is a state licensed general contractor, we are insured, and have the proper equipment and experience for the successful completion of your Demolition Project in the Carolinas.
If you need a reliable Demolition Contractor, Contact Us for an honest evaluation and quote for your project.
Services Include:
Residential Demolition Services
Commercial / Industrial Demolition
Concrete Breaking & Demolition Projects
Interior Demo & Strip Outs
Swimming Pool Demolition
Demolition & Wrecking Debris Removal
Selective Demoilition Services
Dismantling Operations
Asbestos Abatement & Removal Available
Demolishing of Mobile Structures
Wrecking Services for Barns & Garages
Recycling of Selective Demo Materials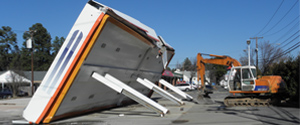 Click Below to View Past Demo Projects